The SIXPAD Training Suit provides a moderate amount of resistance against your everyday actions.
A simple bending and straightening of the arm or leg encounters resistance that effectively trains the muscles. This is possible through the flexibility of the fabric used for the SIXPAD Training Suit which is designed to continuously apply moderate resistance against the actions of the muscles. For example, when wearing the SIXPAD Training Tights, the muscle activity level of the hamstring muscles is increased by about 1.3 times when compared to not wearing the tights.
Example of Surface EMG Waveforms (Hamstring Muscles)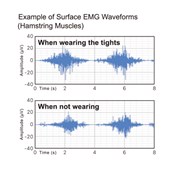 Item Studied:
The same actions (bending the knee joint from 180 to 90 degrees) were performed while wearing and not wearing the tights, and the action potential of the hamstrings was compared. The results showed an increase in the EMG amplitude of about 30%* when wearing the tights as well as more neuromuscular activity compared to when not wearing them. This can be interpreted as the hamstrings attempting to exercise more strongly, even when performing the same action.
*Comparison of average values in EMG amplitude for 10 subjects (males from 31 to 50 years of age) when wearing versus not-wearing tights. (Researched by a 3rd-party institution)